You'll never guess what little thing transformed the way I shop
Most of my friends know that Google Drive is a hobby of mine. I have a doc or spreadsheet for most areas of my life: meal plans, parties, travel itineraries, you name it. One area that this quirk has greatly impacted my habits is my closet.
About 4 years ago, I made a spreadsheet of every clothing item I own, including bags, shoes, and coats. Included in this spreadsheet was also what I paid for each item and if I bought it second hand. At first, I did this just out of sheer curiosity. How many items do I own, and how are they distributed? Cells would be color coded, too, if I was considering donating an item from lack of wear, or if I knew I would need to replace an item next season. Little did I know then, this spreadsheet would evolve into a tool that helped me significantly reduce the number of items I purchase, break up with "fast fashion" and become a more conscious consumer.
When I made this spreadsheet, I also started tracking purchases in 6 month spans for cold weather and warm weather, and I'd make a wish list at the start of each season. Tracking purchases and making a wish list quickly revealed where I was being wasteful. First, this sort of documentation showed me what brands of clothing I was keeping for only a short amount of time. For the most part, the reoccurring theme was poor quality (which might seem like an obvious thing that one shouldn't need a spreadsheet for). But to have these statistics clearly laid out and remind me that certain items wore out after a single summer—plus the exact amount of money I spent and now wasted—was personally very formative. The second thing this showed me was that more often than not, I didn't really end up wearing or needing impulse purchases that deviated from my wish list.
With all of this came the question: where should I be spending my money? So, another big part of my journey has been learning how to buy quality, long-lasting clothing. Investigating how clothing is made and learning about the staggering amount of unwanted clothing that is donated every year has led me to take pause and really consider purchases. I am now reading labels, looking at fiber content, inspecting seams, and repairing items more often than replacing them. Now, when trimming items from my wardrobe, I try and find better places to donate them. I've donated coats to places where I know they can be accessed for free by people that need them; clothing and socks that are past their prime go to organizations that recycle fabric; and sometimes I offer items to friends who could give them new purpose.
At the end of the day, I'm thankful that this weird hobby of over-documentation has ultimately encouraged self-reflection and had a positive impact on my consumer habits.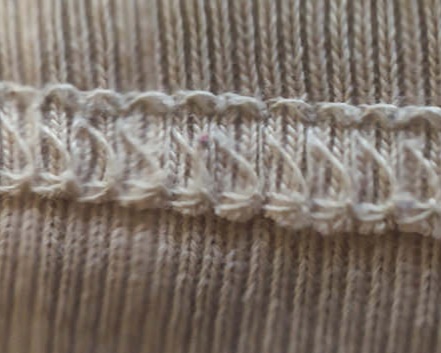 INSPECT SEAMS FOR QUALITY
try to repair clothes instead of throwing them away
PAY ATTENTION TO FIBER CONTENT; LOOK FOR QUALITY MATERIALS